Composition in movies
Teoretisk opgave på engelsk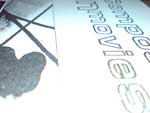 In the following pages we want to describe different techniques used in movie-composition and the importance of the use of these.

These methods mean much more than you can think of. The atmosphere, the interpretation and the entire whole depends on how the director makes use of the mentioned rules and guidelines.

We have tried to illuminate the most used methods in media-production, in addition to how to use them in different cases.


Downloads
• Rapport