Music and sound effects
Praktisk / Teoretisk opgave på engelsk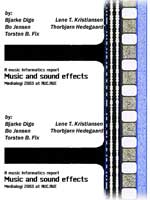 Sound and music have often been underestimated in movies. Music is a very important part of the story, because of its strength and ability to tell what is going to happen.

Furthermore musicis a great tool to emphasize a particular mood.

In this report we will describe some of the different aspects of music and sound effects. We will then relate this to some examples of animation with sound.

Finally we will describe how we made our sound effects and music for our cartoon.


Downloads
• Rapport